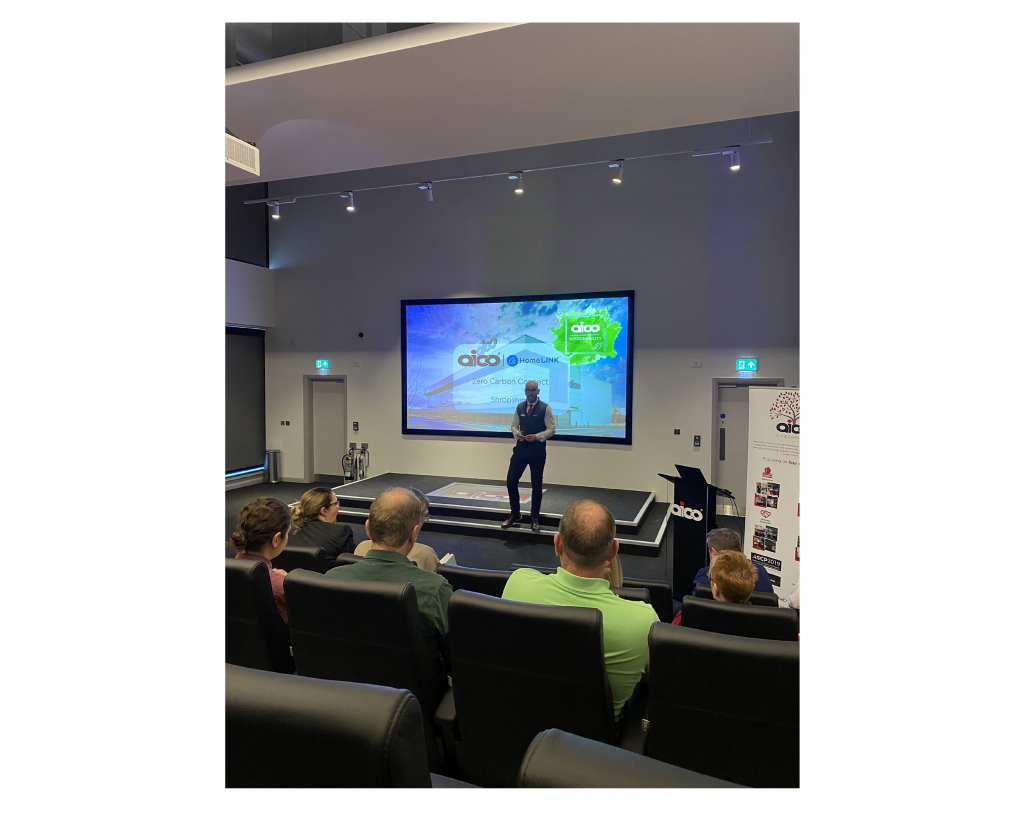 Recently, Aico partnered with Zero Carbon Shropshire to host the Zero Carbon Connect Live event on sustainability and achieving NetZero in Shropshire. Held at Aico's headquarters in Oswestry, the event provided local businesses and organisations with information and practical advice on implementing sustainable practices and reaching net zero targets, with presentations from a number of industry experts.
The event began with Aico colleagues sharing Aico's journey to improve sustainability so far, with their strategy of 'Measure, Reduce, Balance' to reach their goal of becoming Carbon Neutral by 2030 .
Michael Wright, Product Development Manager at Aico, provided case study examples of projects undertaken as part of their sustainability drive. He spoke of the packaging project aimed at eliminating plastic and reducing paper and cardboard, whilst maintaining product protection and packaging design. The results show that this project saves six tonnes of plastic and eight tonnes of paper per year. Aico's new product range of Fire and Carbon Monoxide alarms, the eco-fit range , was highlighted as a key contribution towards Aico's efforts to be more sustainable and environmentally conscious. The new eco-fit range is a greener, more environmentally friendly choice, with a reduction in plastic of 100% and using 58% less paper and cardboard.
Attendees of the Zero Carbon Connect Live event then heard from keynote speakers; firstly Sue Burnell, Director of Accelerated Success, spoke about identifying the barriers to achieving net zero and the added challenges brought by the Coronavirus pandemic. Director of E4environment, Deborah Cairns, then discussed Environmental Sustainability , highlighting practical initiatives that can be implemented to benefit the environment, businesses, and the community through Corporate Social Responsibility.
Workable guidance was provided for businesses on the impact and responsibilities of waste compliance from Stewart Price, Scheme Manager at WERCS, information on Environmental Management Systems and the associated benefits was delivered by Andy Whyle, Sustainability Specialist at S-AW, and Kevin Oubridge, Director of Accelerated Success, conveyed how a sustainable business approach provides a route map to success.
Lee Duffy, Operations | Learning & Development Manager "The Climate and Biodiversity crisis is all around us. It's a man-made problem and it needs man-made solutions. Miracles don't happen, only through collaboration and commitment to change can we begin to undo the damage we are causing. We supported The Shropshire Climate Action Partnership by holding Zero Carbon Connect Live at our HQ. The aim of the event was to provide no-nonsense advice to local business of all sizes, bringing together like-minded individuals around a common goal. The event was a huge success and it was brilliant to witness cross industry conversation and a commitment to do more and make long term difference"
For more information on Zero Carbon Shropshire , please visit: zerocarbonshropshire.org
For more information on how Aico manages sustainability , please visit: www.aico.co.uk/sustainability