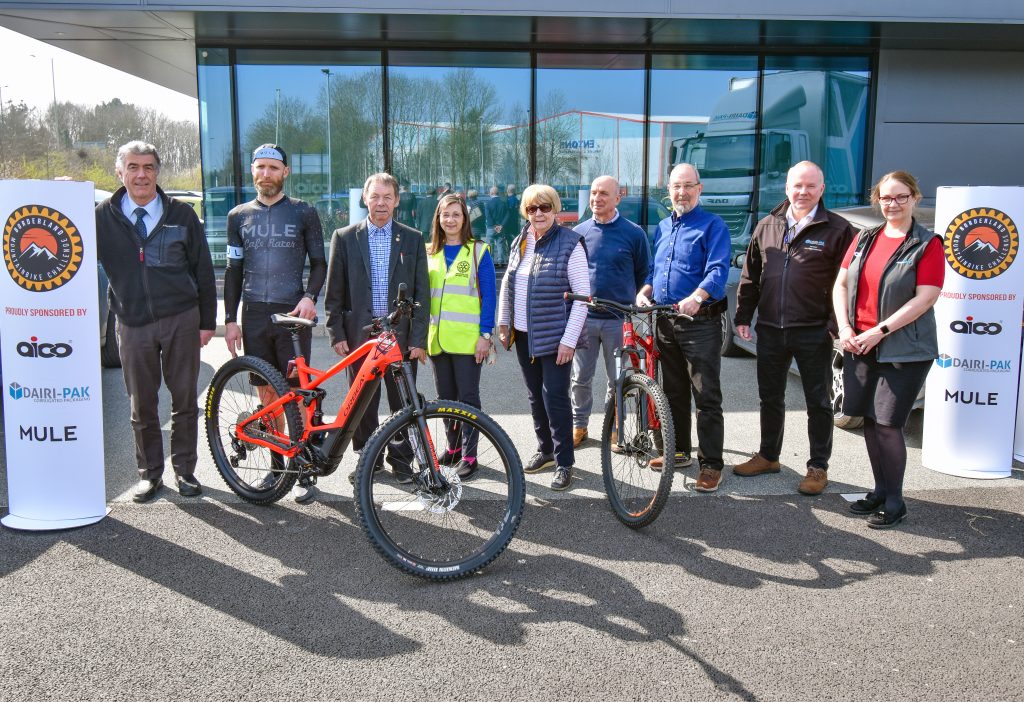 Aico, the European Market Leader in Home Life Safety always strives to aid local initiatives and fundraisers, so the upcoming Borderland Mountain Bike challenge was the perfect opportunity for collaboration.
The 22-mile challenge will take place on 7th May and see riders travel hills, country lanes and off-road tracks all in support of numerous charities, with Midlands Air Ambulance of particular importance. First taking place in 1994, and following a two-year break due to Covid, this year's event sees long-standing sponsors Dairi-Pak joined by Aico and Mule Cycles of Oswestry in an aim to double the number of riders from 150 to 300.
Borderland Rotary, who organise the event, recently joined Aico's Community Liaison, Jane Pritchard, Managing Director of Dairi-Pak, Tim Gray and owner of Mule Cycles, James Davies to launch the event at Aico's headquarters in Oswestry. The group also joined Jane in Aico's TV studio for a sit-down discussion on the event, which will feature on Aico TV in April.
Aico's Community Liaison, Jane Pritchard commented "As an employer committed to supporting our local community, Aico are delighted to be given the opportunity to sponsor the Borderland Mountain Bike Challenge 2022. Along with their long supporting sponsors Dairi-Pak and also Mule Cycles, this now means that the event can be even bigger and better than ever before. Hopefully, this year's event will attract many more riders and will raise much needed funds for the Midlands Air Ambulance as well as other local charities."
Borderland Rotary Publicity Officer, Chris Bryan-Smith is looking forward to the event, adding "Borderland Rotary is thrilled to announce that the 2022 event is back, bigger and better after being cancelled for the last two years. The 22-mile challenge takes the riders over natural trails, green lanes and farm tracks, up and down private land in the foothills of the Berwyn Mountains and is available to riders of all competence however, it's not for the faint hearted as there's only about 300 meters of tarmac and probably no more than that on level ground."
For more information or to participate or support the challenge, please visit: www.borderland-mtb-challenge.org
To find out more about Aico in the Community and to get involved, please visit: www.aico.co.uk/in-the-community